Dog Obedience Training Fort Lauderdale
Customized Dog Obedience Training in Fort Lauderdale, Florida
Welcome to Alpha Buddy Dog Training – your go-to destination for top-notch dog obedience training in Fort Lauderdale. Our skilled team understands that every dog is unique, so we create personalized training plans to meet your dog's specific needs. Our experienced trainers work closely with you to design a training program that suits your goals and fits into your schedule.
At our Fort Lauderdale dog obedience training, we use positive methods that motivate your dog and create a safe, nurturing environment for learning. We believe in treating every dog with kindness and respect, avoiding any harsh techniques that could upset or harm your furry friend.
We know that successful dog training involves teamwork between you and your dog. That's why we encourage you to be actively involved in the training process. We'll guide you through each step, ensuring you have the knowledge and skills to continue your dog's progress at home.
You have the flexibility to choose your training schedule and location. We make it easy for you and your dog by offering various options. Our comprehensive dog obedience training covers all breeds, sizes, and ages. Whether you prefer training in your backyard, a nearby park, or even on the beach, we create a fun and stress-free training experience.
For professional dog obedience training in Fort Lauderdale, turn to Alpha Buddy Dog Training. Our passion is helping you build a strong bond with your dog, and we're committed to providing you and your furry companion with the best training possible. Contact us today to set up your appointment and begin the journey to a happier, better-behaved dog.
Dog Obedience Training Near Fort Lauderdale You Can Rely On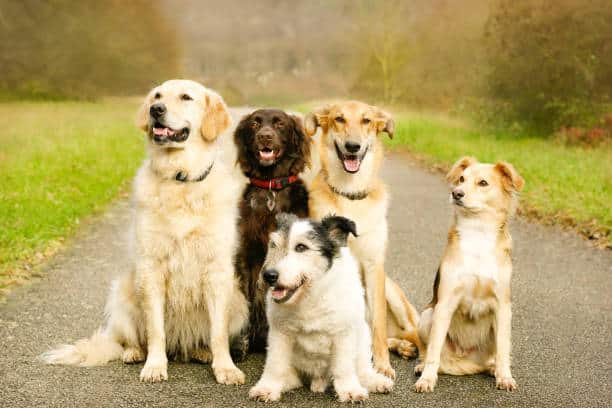 At Alpha Buddy Dog Training, we understand the unique challenges that come with raising a well-behaved and obedient dog. Our goal is to help your furry friend become the best version of themselves through professional dog obedience training services in Fort Lauderdale. Our program focuses on developing good manners, and appropriate behavior, and building a strong bond between you and your furry companion.
Led by our head trainer, Laz Trista, our experienced team uses positive reinforcement techniques to help your dog understand and respond to commands effectively. With Laz's extensive knowledge and expertise in dog behavior and training, you can rest assured that your furry friend is in good hands. Let us help you transform your dog into a well-behaved, obedient, and cherished member of your family. Contact us today to learn more about our dog obedience training services in Fort Lauderdale.
Basic Dog Obedience Training in Fort Lauderdale Includes:
Our basic dog obedience training in Fort Lauderdale will cover the usual basic needs of every dog. Once we evaluate your dog, we will cater to those needs more strongly. We don't want to waste your time with things your dog is already good at. Our class topics will cover:
What to expect with a new puppy

Socialization, handling & proper play skills with other dogs, people, and new environments

House training & potty schedules, teething & chewing, boundaries & manners

Basic obedience commands such as sit, down, impulse control, and recall.

Safe and happy puppy playtime.
These class topics included in our Fort Lauderdale dog training program will cover the following fundamentals:
Sit

Down

Basic Manners

Door Manners

Leave it & drop it

Stay

Loose leash walking

Watch me

Heel & sit
Advanced Dog Obedience Training in Fort Lauderdale
Our specialized dog obedience training in Fort Lauderdale is tailored to create an extraordinary bond between you and your furry friend. While our foundational course is where the journey begins, it's only the start of something amazing. As your dog becomes proficient in the basics, we unveil an advanced obedience program designed to elevate their skills to new heights.
In our comprehensive 8-week advanced course, your dog will master intricate commands, including the art of off-leash walking. This immersive curriculum not only imparts new skills but also boosts their confidence in real-world situations. By the end of the program, your dog will effortlessly show off their newfound abilities, making you the talk of the dog park.
What Makes a Good Fort Lauderdale Dog Trainer?
If you're on the hunt for unparalleled dog obedience training in Fort Lauderdale, your search ends with Alpha Buddy Dog Training! Our adept trainers, officially certified and fueled by an unwavering love for canines, stand ready to transform your four-legged companion into a model of obedience. Employing a repertoire of innovative and effective training techniques, we unlock your pet's true capabilities. Through a spirited and encouraging teaching approach, we cultivate an interactive and enlightening atmosphere for your cherished furry family member. As the preeminent authority in dog training solutions in Fort Lauderdale, we are your partners in unleashing your dog's fullest potential. Whether your goal is to remedy behavioral issues or amplify their obedience aptitude, our comprehensive services have got you and your canine covered
Alpha Buddy Dog Training Is Ready For Your Dog
If you have been searching for Fort Lauderdale Dog Training, look no further than Alpha Buddy Dog Training. You and your dog will receive high-quality, personalized training lessons from our certified trainer, Laz Trista at any location you prefer. There's no better place in Fort Lauderdale, Florida to have your dog trained. If you want to see real results from your dog, visit our contact page today to set up an appointment.