Dog Obedience Training Tamarac
Customized Dog Obedience Training in Tamarac, Florida
Alpha Buddy Dog Training is your top choice for exceptional dog obedience training in Tamarac and nearby areas. We understand that every dog is unique, which is why we offer personalized training programs tailored to your dog's specific needs. Our experienced trainers will work closely with you to create a customized training plan that suits your goals and schedule.
Our Tamarac dog obedience training employs positive reinforcement techniques to motivate your dog and create a safe, nurturing environment for learning. We believe in treating every dog with kindness and respect, avoiding harsh methods that could cause stress or harm to your furry companion.
We recognize that successful dog training involves teamwork between you and your dog. That's why we encourage you to actively participate in the training process. Our expert guidance ensures you have the knowledge and skills to maintain your dog's progress at home.
If you're looking for professional dog obedience training in Tamarac, Alpha Buddy Dog Training is the answer. We're passionate about helping you build a strong bond with your dog and providing the best training possible. Contact us today to schedule your appointment and start your journey toward a happier, better-behaved dog.
Dog Obedience Training Near Tamarac You Can Rely On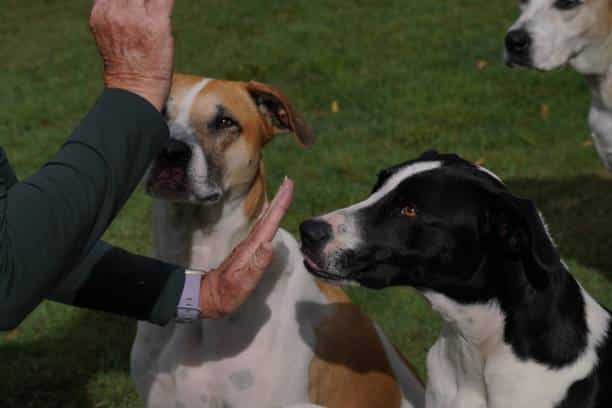 Alpha Buddy Dog Training recognizes the unique challenges that arise in nurturing a well-mannered and disciplined canine companion. Our commitment is unwavering, and we're dedicated to bolstering your dog's obedience through our specialized dog obedience training services in Tamarac. By choosing us, you're investing in a partnership that focuses on cultivating respectful behaviors and cultivating a strong human-canine connection.
With the leadership of Laz Trista, our esteemed head trainer, and a team of skilled professionals, we employ the power of positive reinforcement to empower your furry friend's comprehension of instructions. Leveraging Laz's wealth of expertise in canine behavior and training, our approach is tried, tested, and true. It's like a tailor-made suit for your dog's behavioral transformation – a perfect fit.
Basic Dog Obedience Training in Tamarac Includes:
Our basic dog obedience training in Tamarac will cover the usual basic needs of every dog. Once we evaluate your dog, we will cater to those needs more strongly. We don't want to waste your time with things your dog is already good at. Our class topics will cover:
What to expect with a new puppy

Socialization, handling & proper play skills with other dogs, people, and new environments

House training & potty schedules, teething & chewing, boundaries & manners

Basic obedience commands such as sit, down, impulse control, and recall.

Safe and happy puppy playtime.
These class topics included in our Tamarac dog training program will cover the following fundamentals:
Sit

Down

Basic Manners

Door Manners

Leave it & drop it

Stay

Loose leash walking

Watch me

Heel & sit
Advanced Dog Obedience Training in Tamarac
At Alpha Buddy Dog Training, we understand the pivotal role that obedience plays in fostering a joyful and thriving bond with your beloved canine companion. Our unwavering commitment is evident in our exceptional dog obedience training services, proudly serving Tamarac and its surrounding areas. Our foundational program merely scratches the surface of our comprehensive offerings. Beyond instilling the basics, we extend an invitation to explore our advanced dog obedience course, meticulously designed to fortify your dog's skills.
Throughout the immersive 8-week advanced training course, we'll delve into an array of novel and intricate commands, including the art of off-leash walking. This transformative experience is not solely about skill acquisition; it's about cultivating your dog's self-assuredness in seamlessly executing commands amidst real-world scenarios. Witness the remarkable evolution as your canine companion showcases newfound abilities, turning heads and sparking admiration during your strolls around Tamarac. Your faithful friend's newfound abilities will undoubtedly leave tails wagging in awe.
What Makes a Good Tamarac Dog Trainer?
Our team of expert trainers is fully certified and deeply dedicated to nurturing dogs' growth. Utilizing innovative training techniques, we tap into your canine companion's innate abilities. Our training methodology is infused with positivity and boundless enthusiasm, ensuring an interactive and enriching learning journey for your cherished pet. As the foremost authority on dog training services in Tamarac, we're your ultimate partner in unlocking your dog's true capabilities. Whether you're aiming to rectify challenging behaviors or elevate obedience proficiency, we're at your service. Don't hesitate! Reach out to us today to explore the array of dog training programs we offer in Tamarac!
Alpha Buddy Dog Training Is Ready For Your Dog
If you have been searching for Tamarac Dog Training, look no further than Alpha Buddy Dog Training. You and your dog will receive high-quality, personalized training lessons from our certified trainer, Laz Trista at any location you prefer. There's no better place in Tamarac, Florida to have your dog trained. If you want to see real results from your dog, visit our contact page today to set up an appointment.