Dog Obedience Training Delray Beach
Customized Dog Obedience Training in Delray Beach, Florida
Alpha Buddy Dog Training is the premier choice for dog obedience training in Delray Beach and the surrounding areas. We understand the importance of having a well-behaved dog, and that's why we're committed to helping you build a strong, positive relationship with your furry friend.
Our trainers are highly experienced in providing personalized training plans that cater to the unique needs of your dog. Our dog obedience training in Delray Beach uses a multifaceted approach to training, focusing on positive reinforcement techniques that motivate your dog and create a stress-free learning environment. We avoid any harsh methods that may cause distress or harm to your dog, making sure they feel comfortable throughout the training process.
We strongly believe that successful dog training involves the participation of both the dog and the owner. Our trainers will work closely with you, guiding you through the training process and equipping you with the necessary knowledge and skills to maintain your dog's progress at home. Whether you're dealing with basic obedience commands or more complex behavioral issues, such as leash aggression or barking, our trainers will create a personalized plan that addresses your dog's specific needs.
Our flexible scheduling options and various training locations make it convenient for you and your dog to enjoy a stress-free training experience. Our comprehensive dog training programs cater to all breeds, ages, and sizes, and we're dedicated to going above and beyond to serve you. We travel throughout Delray Beach and South Florida to meet your training needs, whether you prefer training in your own backyard or a nearby park.
At Alpha Buddy Dog Training, we believe that every dog has the potential to be well-behaved and happy, and we're here to help you achieve that. Contact us today to schedule your dog obedience training appointment in Delray Beach and let us help you and your furry companion embark on the journey toward a happier, better-behaved dog.
Dog Obedience Training Near Delray Beach You Can Rely On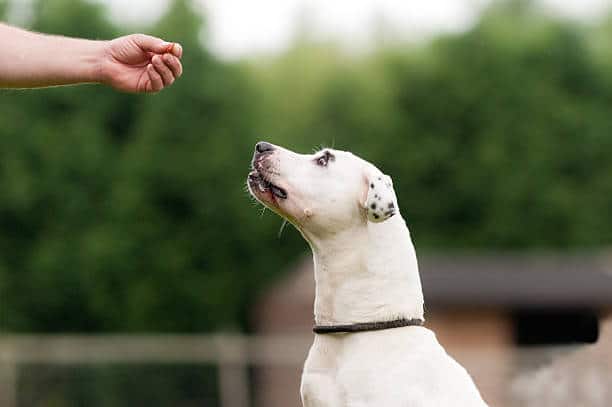 At Alpha Buddy Dog Training, we know that your dog is more than just a pet – they are a valued member of your family. That's why we offer top-notch dog obedience training services in Delray Beach to help your furry friend become a well-behaved, obedient, and cherished part of your household.
Our head trainer, Laz Trista, is a highly experienced expert in dog behavior and training with over 20 years of knowledge under his belt. Laz's unparalleled expertise and abilities allow him to create personalized training plans that are tailored to your dog's individual needs. With his in-depth understanding of canine behavior, Laz utilizes the most effective techniques to train your dog to respond to commands and exhibit appropriate behavior in any scenario.
Basic Dog Obedience Training in Delray Beach Includes:
Our basic dog obedience training in Delray Beach will cover the usual basic needs of every dog. Once we evaluate your dog, we will cater to those needs more strongly. We don't want to waste your time with things your dog is already good at. Our class topics will cover:
What to expect with a new puppy

Socialization, handling & proper play skills with other dogs, people, and new environments

House training & potty schedules, teething & chewing, boundaries & manners

Basic obedience commands such as sit, down, impulse control, and recall.

Safe and happy puppy playtime.
These class topics included in our Delray Beach dog training program will cover the following fundamentals:
Sit

Down

Basic Manners

Door Manners

Leave it & drop it

Stay

Loose leash walking

Watch me

Heel & sit
Advanced Dog Obedience Training in Delray Beach
At Alpha Buddy Dog Training, we know that a well-trained dog is a happy dog, and that's why we offer our advanced dog obedience training course in Delray Beach. After your furry friend has completed our basic obedience course, we'll take their training to the next level with advanced obedience training. We'll introduce your dog to greater distractions to help reinforce the disciplines they've learned, making them even more confident in executing commands, no matter how busy the surrounding area is.
Our expert trainers will also teach your dog new, more advanced commands, including off-leash walking. By the end of the 8-week course, your pup will be able to show off their newly acquired skills and impress everyone in the neighborhood. So if you're looking for the best dog obedience training in Delray Beach, look no further than Alpha Buddy Dog Training.
What Makes a Good Delray Beach Dog Trainer?
Our experienced and certified trainers have a passion for working with dogs and use unique training methods that are specifically designed to bring out the best in your furry friend. We take a positive and enthusiastic approach to training, creating a highly engaging learning environment for your four-legged companion. As the leading provider of dog training services in Delray Beach, we can help your dog reach their full potential, whether you're looking to correct bad behaviors or simply improve obedience skills. Don't let your dog miss out on the fun and benefits of our dog training programs. Contact us today to learn more about how we can help your furry friend become the best version of themselves.
Alpha Buddy Dog Training Is Ready For Your Dog
If you have been searching for Delray Beach Dog Training, look no further than Alpha Buddy Dog Training. You and your dog will receive high-quality, personalized training lessons from our certified trainer, Laz Trista at any location you prefer. There's no better place in Delray Beach, Florida to have your dog trained. If you want to see real results from your dog, visit our contact page today to set up an appointment.